FOP 91 REGRETS TO ANNOUNCE THAT AS OF MAY 31, 2018 WE HAVE TEMPORARILY SUSPENDED OUR BINGO OPERATIONS UNTIL FURTHER NOTICE.
WE HOPE TO ANNOUNCE OUR FUTURE PLANS SOON.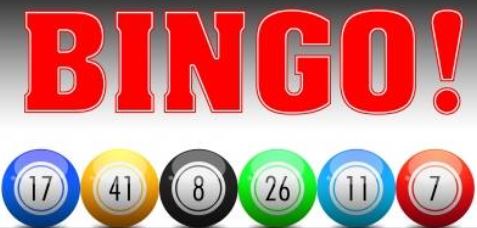 $8 validation for bingo Tuesday's & Wednesday's! Must be validated by 6pm.
See you soon!
REGULAR BINGO NOW ON TUESDAY, WEDNESDAY,FRIDAY
TIMES:
Doors open 5:00 pm
early bird 6:15 pm
Regular Bingo 7:00 pm
game nights end appx 9:30 pm
PRICES:
(revised Dec. 28, 2015)
Single pack $8 ($9 with hot ball)
Double pack: $11 ($12 with hot ball)
Extra packs: $6
Get 2-Starburst packs (special games $1000, 700 and 2-300) with validation add $7

Extra Starburst packs: $7
Single pack/starburst pack with hot ball $16

Double pack/double starburst pack with hot ball $19
BIRTHDAY SPECIAL
Validate anytime during the month of your birthday and play four (4) times within next thirty (30) days
for only $2 ($3 with hot ball). You get to play a double pack and double starburst for this price.
=======================================================================
Door prizes:
7-Buddy left and buddy right, $50.00 to ticket holder,
$25.00 to player on left and $25 player on their right.
* IF crowd is over 300, a total of 10 door prizes will be paid *
King and Queen:
The first male and first female that Bingo ALONE
during a regular game, are crowned.
From that point on they are paid $10.00 each
time
the number they called bingo on is called in any game
except speedball games and specials.
Mishawaka FOP Lodge is a non-smoking venue for ALL events, including Bingo
please note:
during severe winter weather events when travel conditions are extreme and dangerous, FOP91 may be forced to cancel a Bingo night event. We will try to announce such a closing on this website page and local news media outlets
LICENSE # 144343