NO BINGO ON MEMORIAL DAY MONDAY,MAY 29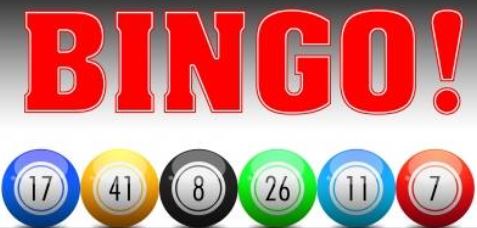 CHECK OUT OUR NEW CONCESSIONS BY NELSON'S CATERING
Nelson's Catering now providing concessions for bingo nights!
Featuring their famous half chicken and be sure to add a side of thier delicious Pit-potatoes!
Doors open at 4:00 | Validation at 5:00
Warm-up bingo at 6:15 | Regular bingo at 7:00
REGULAR BINGO ON MONDAY, TUESDAY, FRIDAY
TIMES:
Doors open 4 pm
validations start: 5 pm
warm-ups appx: 6:20 pm
early bird 6:40 pm
Regular Bingo 7 pm
game nights end appx 9:30 pm
PRICES:
(revised Dec. 28, 2015)
Single pack $8 ($9 with hot ball)
Double pack: $11 ($12 with hot ball)
Extra packs: $6
Get 2-Starburst packs (special games $1000, 700 and 2-300) with validation add $7

Extra Starburst packs: $7
Single pack/starburst pack with hot ball $16

Double pack/double starburst pack with hot ball $19
BIRTHDAY SPECIAL
Validate anytime during the month of your birthday and play four (4) times within next thirty (30) days
for only $2 ($3 with hot ball). You get to play a double pack and double starburst for this price.
=======================================================================
Door prizes:
7-Buddy left and buddy right, $50.00 to ticket holder,
$25.00 to player on left and $25 player on their right.
* IF crowd is over 300, a total of 10 door prizes will be paid *
King and Queen:
The first male and first female that Bingo ALONE
during a regular game, are crowned.
From that point on they are paid $10.00 each
time
the number they called bingo on is called in any game
except speedball games and specials.
Mishawaka FOP Lodge is a non-smoking venue for ALL events, including Bingo
please note:
during severe winter weather events when travel conditions are extreme and dangerous, FOP91 may be forced to cancel a Bingo night event. We will try to announce such a closing on this website page and local news media outlets
LICENSE # 10555